Whether it be your first child or you are close to building your very own sports team, baby showers are always a great time to celebrate. Marquee Lights Rental has a variety of decor items available for your Baby Shower in Boca Raton. We have everything from marquee lights, tables, balloons, flower walls and more. Here is a look at some of our best pieces that you can have at your baby shower.
Marquee Lights in Boca Raton
Marquee lights are great for decorating any baby shower. You can rent any letter and number combination to build a phrase perfect for your baby shower. The perfect phrase can add a lot of fun and personality to your event. Whatever the phrase, the soft white lights from inside our 4 foot letters will light up your event. These letters will provide a beautiful ambience to your baby shower in Boca Raton.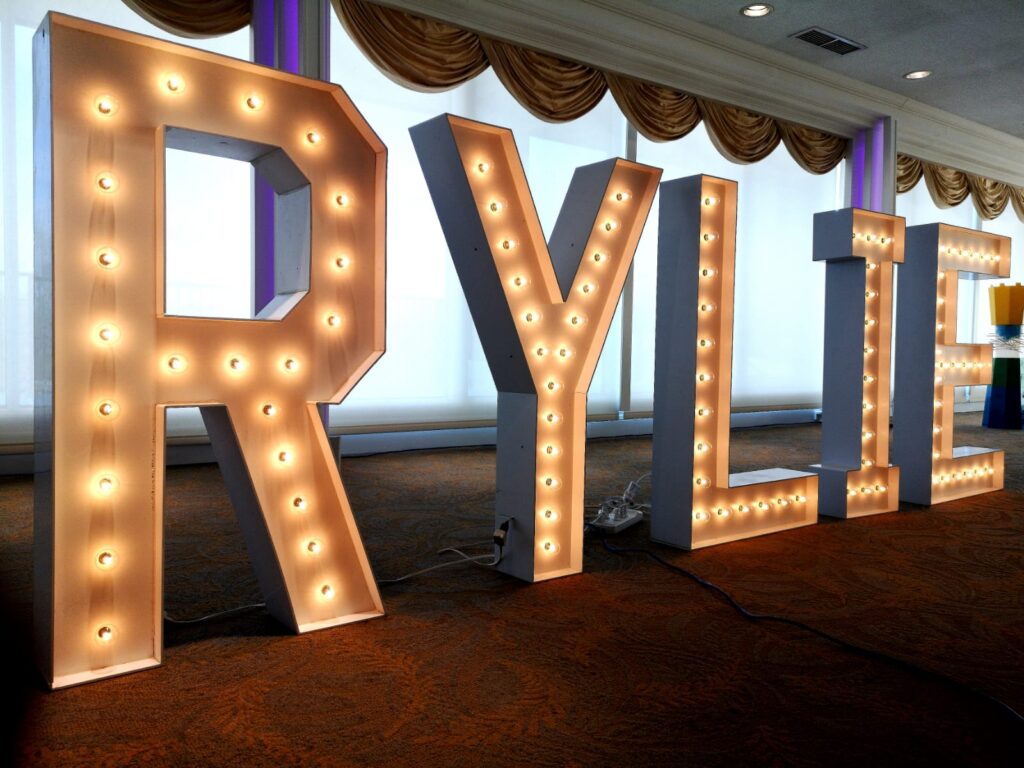 Marquee Tables in Boca Raton
You may like the idea of having marquee letters at your baby shower, but as a parent to be you may question their practicality. We have a great solution for anyone looking for event decor that is more than just visual. Marquee tables are the perfect combination of visual and practical event decor. We take our beautiful marquee letters and connect them with panel across the top. The result, a beautiful table that can hold many different items and offers a unique look. You can put anything from food, drinks and presents on the table to beautifully display it to all of your guests. We can't wait to see what's on your table at your baby shower in Boca Raton.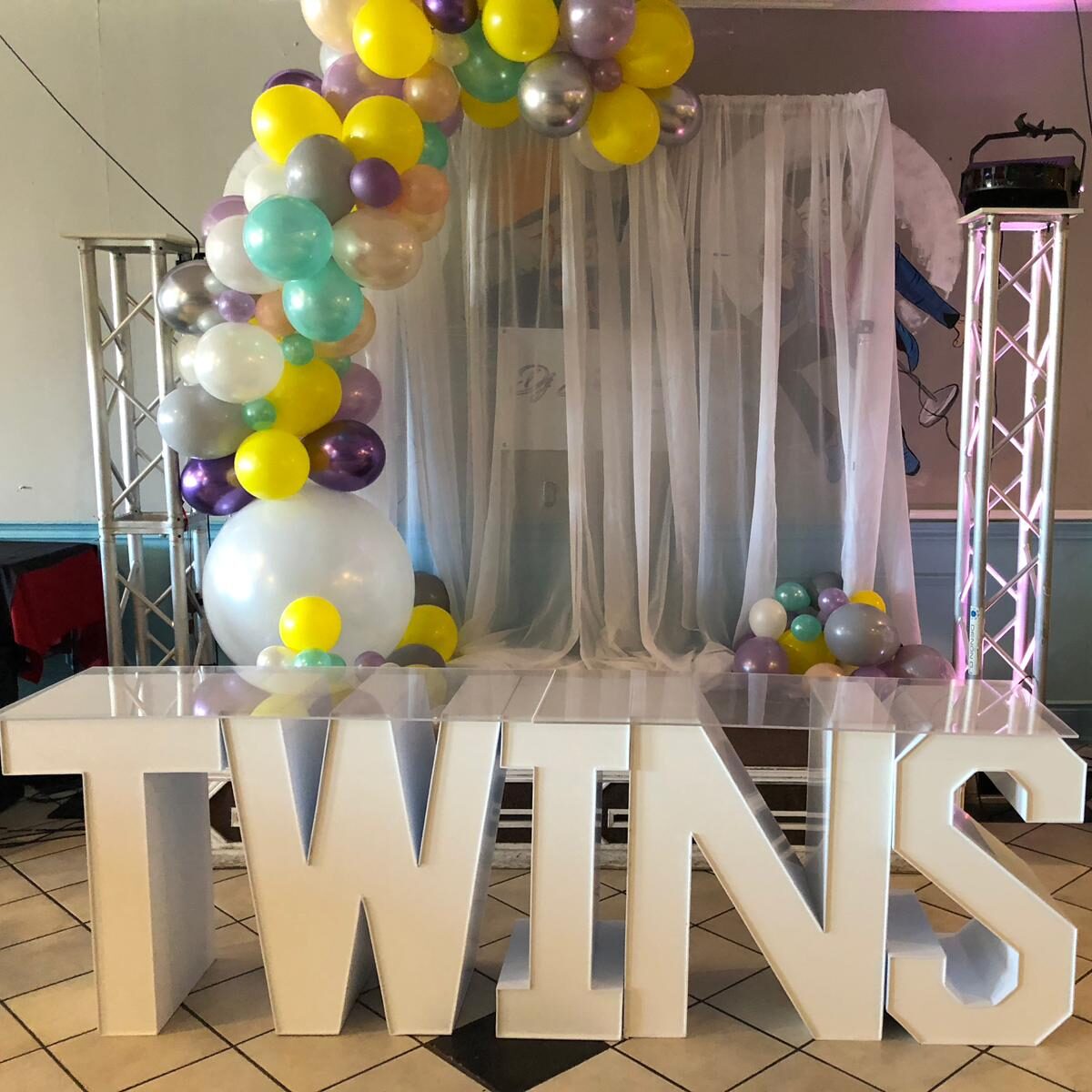 Flower Walls in Boca Raton
You are going to be taking so many memorable photos at your baby shower, so why not have the perfect backdrop for all of them. The flower walls rentals from Marquee Lights Rental are what you are looking for. We have a variety of flower walls in different colours, all made with premium silk flowers. Each of our flower walls stand at 8 feet tall and can be decorated with gold lettering to add that personal touch. Our most popular flower wall rental for a baby shower in Boca Raton is the green boxwood flower wall. This flower wall offers a natural hedge look and is the perfect canvas for your very own decorations.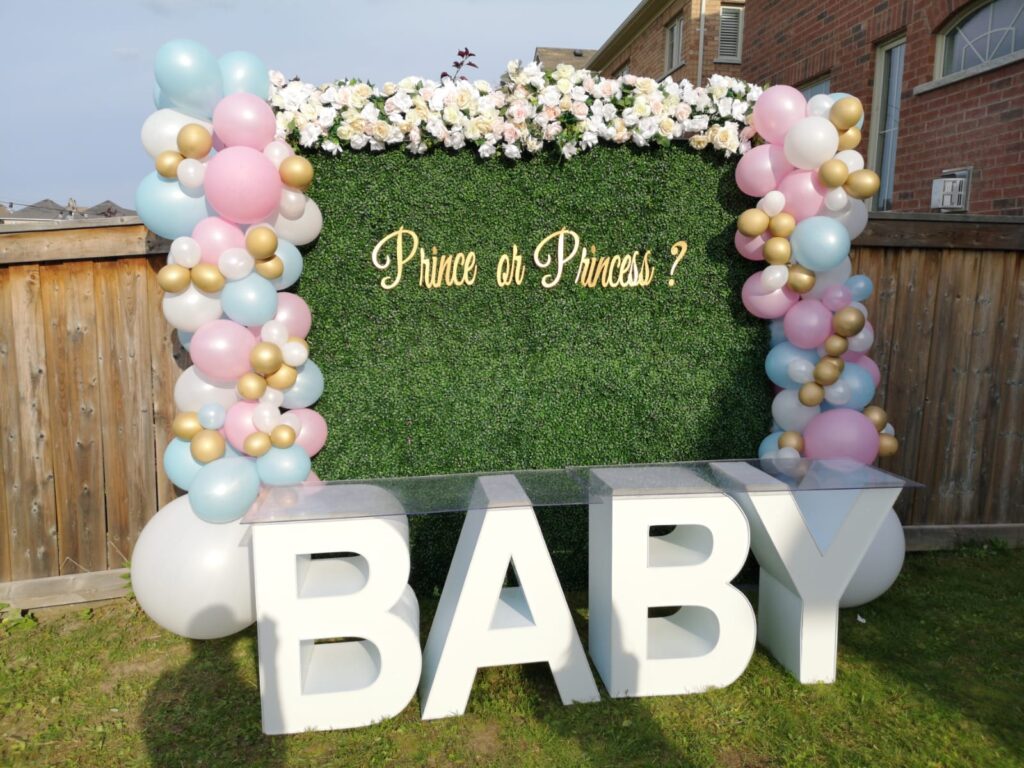 Balloons in Boca Raton
Balloons are a classic piece of decor that always brings people back to their childhood when they see. As you have a child on the way, what better time to bring back balloons! Our balloon artists will craft your arrangement with a variety of balloons in different sizes and colours to create a dynamic display. These arrangements can be free standing or attached to any surface at your event including walls and railings. Balloons pair great with so many different pieces of decor and can be a great addition to any baby shower in Boca Raton.
Baby Shower Rentals in Boca Raton
If you are looking for one of these amazing rentals in the Boca Raton area, reach out to us at Marquee Lights Rental. You can contact us at 1 (855) 954-5152 and marqueelightsrental@gmail.com. We have an experienced and friendly team that will help you with all of your decor needs.
If you are looking for any additional rentals, check out Events 365 Rentals.