Baby showers are the perfect way to celebrate before the craziness of parenting a newborn starts. There are so many sleepless nights on the horizon, so you shouldn't lie awake thinking about your baby shower decor. The marquee table from Marquee Lights Rentals is an amazing piece of decor to have at your baby shower. Marquee tables are totally practical for baby showers and have amazing style. We can provide this rental and many other amazing baby shower rentals in Chicago and across the USA. Let's take a closer look at our best baby shower rental!
Design of Marquee Tables in Chicago
This baby shower rentals in Chicago is able to execute its simple design elements very well. The key part of the marquee table is the marquee letters on the bottom. These letters stand at 32" tall and are displayed in a very easy to read font. The most common word used for a baby shower is "Baby". However, there is also the option to get any word you would like for the letter design on the bottom of the table. To complete the table, a see through panel is placed along the top of the letters. This panel is very sturdy and will be able to support items placed on top of it. Which leads us to our next topic.
How to Use a Marquee Table in Chicago
There are many baby shower rentals in Chicago out there that look great and that's all they are good for. The marquee table is a favourite at baby showers because it looks great and has practicality. Baby showers often involve a lot of food and gifts for the mother to be. There needs to be a place to put all that. The marquee table offers a beautiful solution to display some of these amazing gifts and food. The wonderful assortment of items will create ideal pictures on top of such a beautiful and unique table.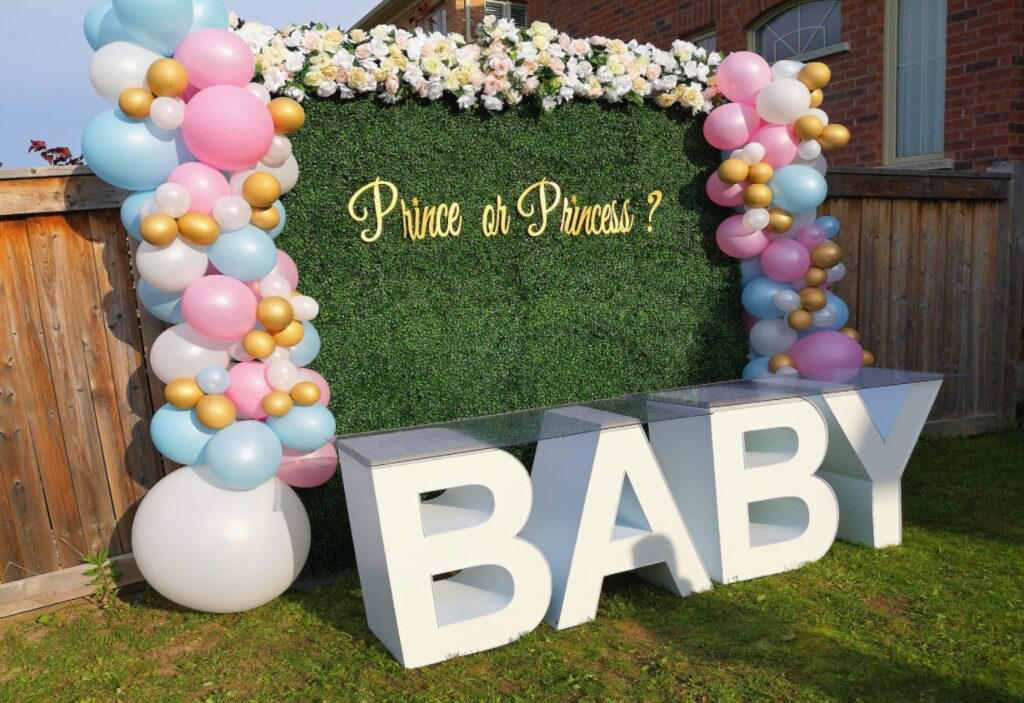 Rent a Marquee Table in Chicago
If you are interested in getting a marquee table in Chicago for your baby shower, contact Marquee Lights Rental. We can provide you with the best baby shower rental in Chicago. You can reach us at 1 (855) 954-5152 or marqueelightsrental@gmail.com. We have an experienced team that can help you with your baby shower decor needs.
Other Baby Shower Rentals in Chicago
We think that you should consider getting a flower wall with your marquee table as they pair together wonderfully. You can get one with us at Marquee Letter Rentals or Events 365 Rentals.
CONTACT US / RESERVATIONS