Finding the person you want to get married too, can be a very difficult task. Finding the right decor to decorate your wedding, can also be a very difficult task. We can't be much help finding the right person for you but we can certainly help with wedding decor. We are Marquee Lights Rental, an event rental company in Tampa. One of our wedding rentals in Tampa is marquee letters. These pieces of decor are very modern and create so many decorating options for you on your big day. Let's give you some amazing ideas!
Marquee Letter Rentals in Tampa
Before we begin discussing some decorating options, we think it's important that we tell you about our marquee letters. Each of our marquee letters stand at 4 feet tall and are decorated with soft white lights on the inside. In darker settings, these lights illuminate the inside of the letters, making them visible from across the room. We offer our marquee's in every letter and number. Each marquee comes individually, allowing you to place them on different levels depending on your wedding setup. Now that you know all about these wedding rentals in Tampa, onto the fun part, decorating ideas.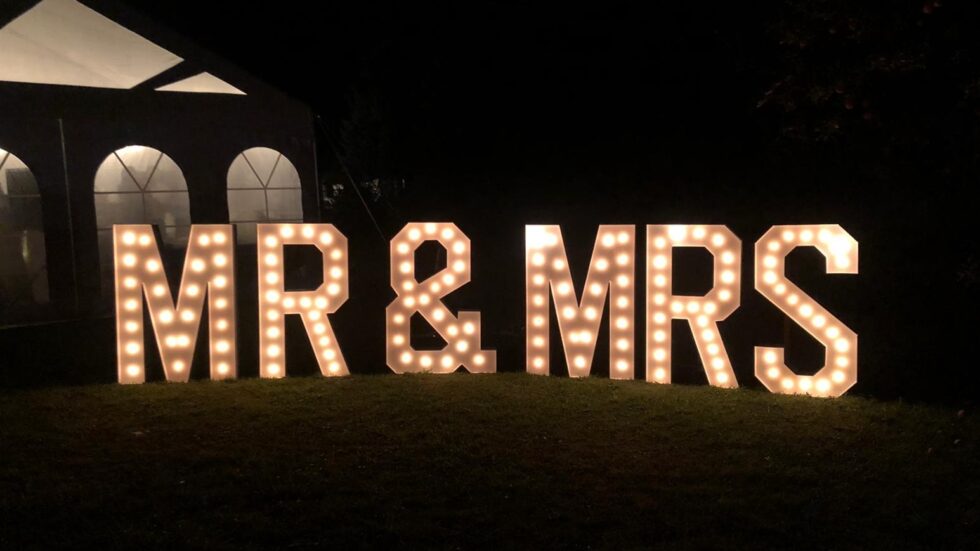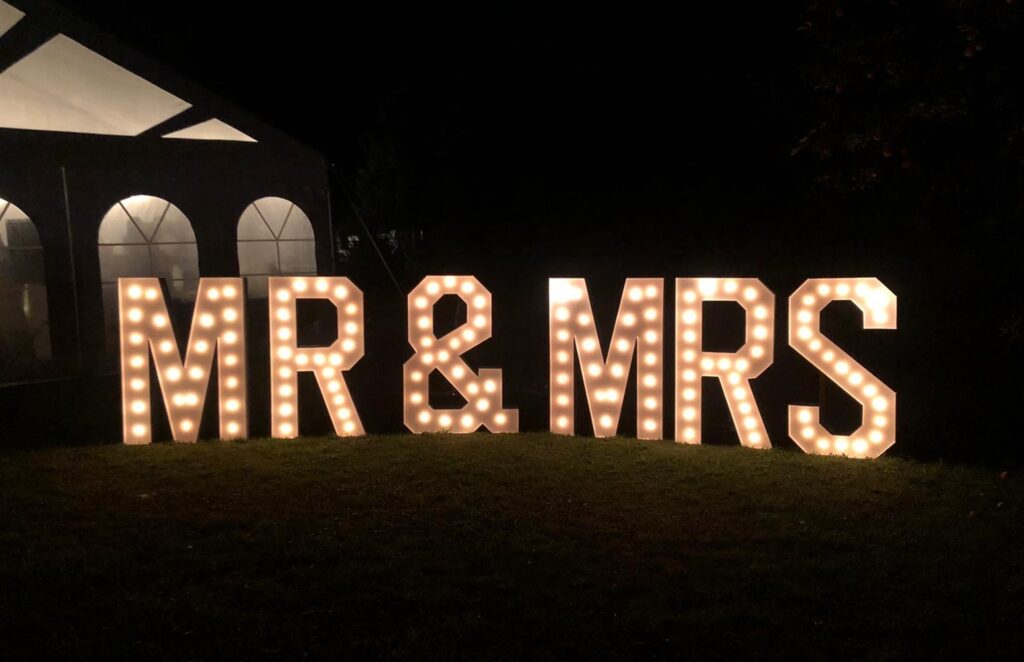 Wedding Reception Rentals in Tampa
Marquee letters are more frequently used at wedding receptions, as this portion of the wedding often allows for more decorating opportunities. A popular spot that we see these wedding rentals in Tampa used is in front of the wedding table. The wedding table is the star attraction for the reception. Everyone wants to get a look at the newly married couple and see the look in their eyes. Putting marquee letters in front of the table helps people identify where the wedding table is. It will also look beautiful in pictures when you look back on them later.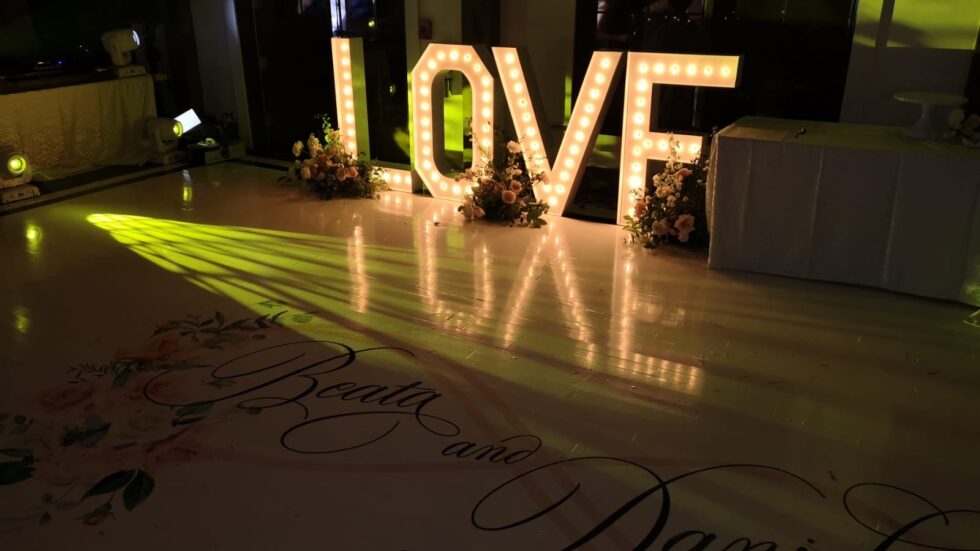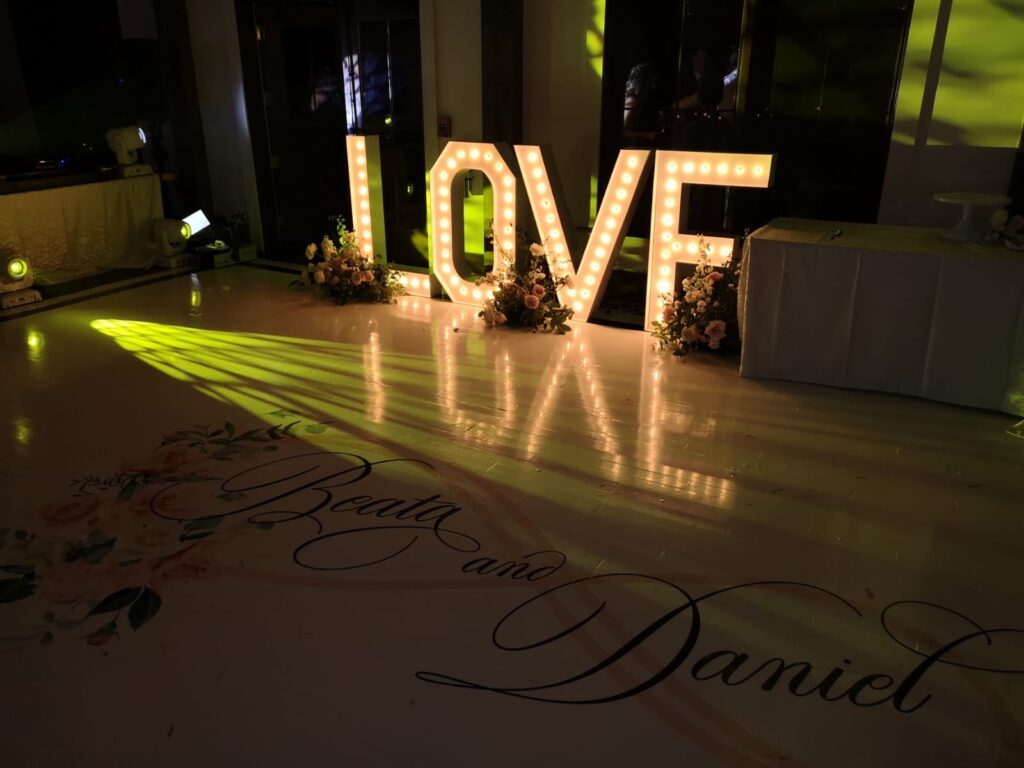 Another great spot for these wedding rentals in Tampa is on the edges of the dance floor. The lights from the inside of the letter will help brighten up the dance floor. These letters look great in the background for that all important first dance. Finally, if your wedding reception area has a stage, this is a great spot to put your marquee letters. Many people will look to the stage throughout the event to see the band or listen to speeches. The marquee letters will provide a beautiful element to the stage and make that area feel special.
Wedding Ceremony Rentals in Tampa
Marquee letters can be used very effectively as part of your wedding ceremony decor. One of the best ways we have seen the letters used is in front of the wedding parties. Displaying the names of each member of the wedding couple on their respective sides, is a great way of showing the 2 sides coming together. Also, you can use marquee letters near the entrance of the ceremony so that you can welcome your guests with a beautiful display. These are just 2 great ways you can use these wedding rentals in Tampa.
Getting Wedding Rentals in Tampa
If you are interested in getting marquee letters for your wedding day, Marquee Lights Rental can help. You can contact us at +1 (855) 954-5152 and marqueelightsrental@gmail.com. Our team will help you by answering all of your questions and getting you an amazing marquee rental.
If you are interested in getting any additional rentals for your wedding, check out Events 365 Rentals.