Are you looking for wedding reception rentals in Fort Lauderdale? Marquee Lights Rentals can get you amazing decor to help you celebrate your wedding in style. We are an event rental company that services the Fort Lauderdale area. We offer a variety of event rentals that will look amazing at your wedding reception. Let's take a look at our best rentals and how you can use them on your big day.
Marquee Letters in Fort Lauderdale
Our letters with lights rental have been beautifully used at many wedding receptions in the past. There are 2 main spots that people tend to place their marquee letter rentals. The first position is in front of the head table. Decorating the newlyweds table is such an important task when it comes to planning a wedding reception. This table is going to be the center of attention and the backdrop for so many pictures and videos that will look back on. Placing a set of marquee letters in front of the table is a beautiful option.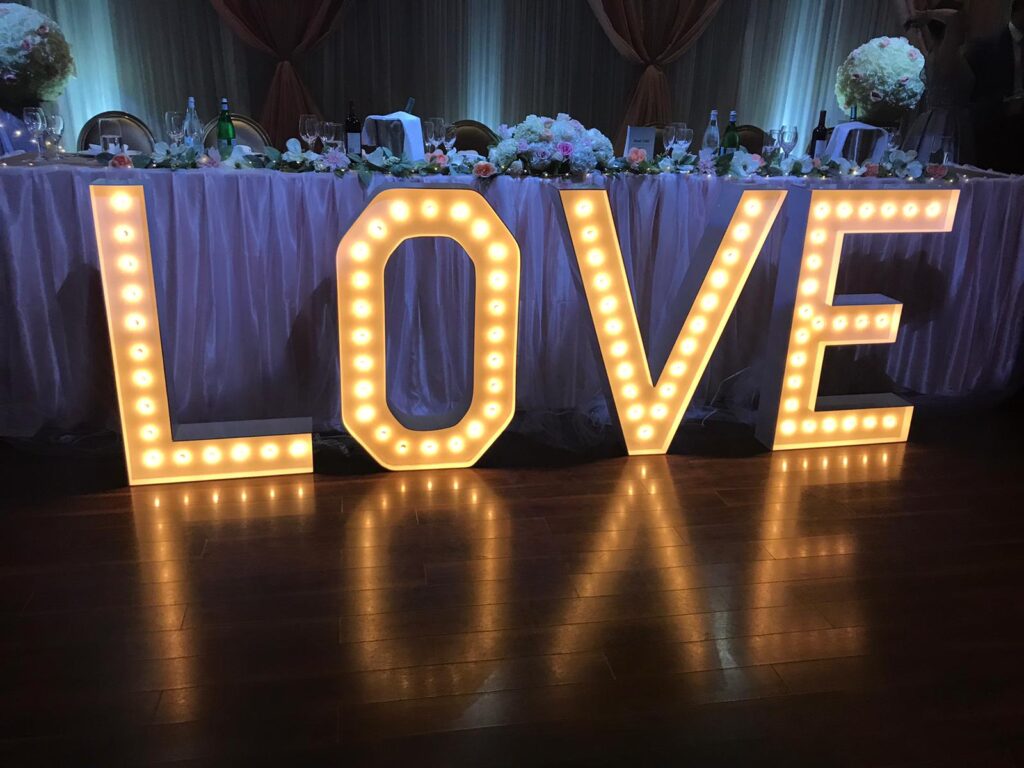 The second position for this wedding reception rentals in Fort Lauderdale is on the edge of the dance floor. You may have some initial hesitation putting your decor next to a spot that may induce exaggerated and wild movements from some of your guests. Trust us, it will make for a beautiful setting. The lights from the marquee letters will illuminate the dance floor and create a fun atmosphere for everyone. All of our marquee rentals are fully customizable so that you can spell out any phrase you would like.
Flower Walls in Fort Lauderdale
Flower Walls have taken the wedding world by storm and become a key part of so many peoples wedding decor. Our flower walls come in a variety of colors and stand at 8 by 8 feet. Each one of our flower walls is crafted using premium silk flowers. These silk flowers are so realistic that you won't be able to tell the difference until you physically touch them. Flower walls make for excellent backdrops in pictures. Behind the head table is a very common place for flower walls at wedding receptions. The head table will be the star for many photos and the flower wall will provide a unique backdrop for all of them. Our flower walls as wedding reception rentals in Fort Lauderdale offer fully customizable lettering, to elevate your backdrop even more.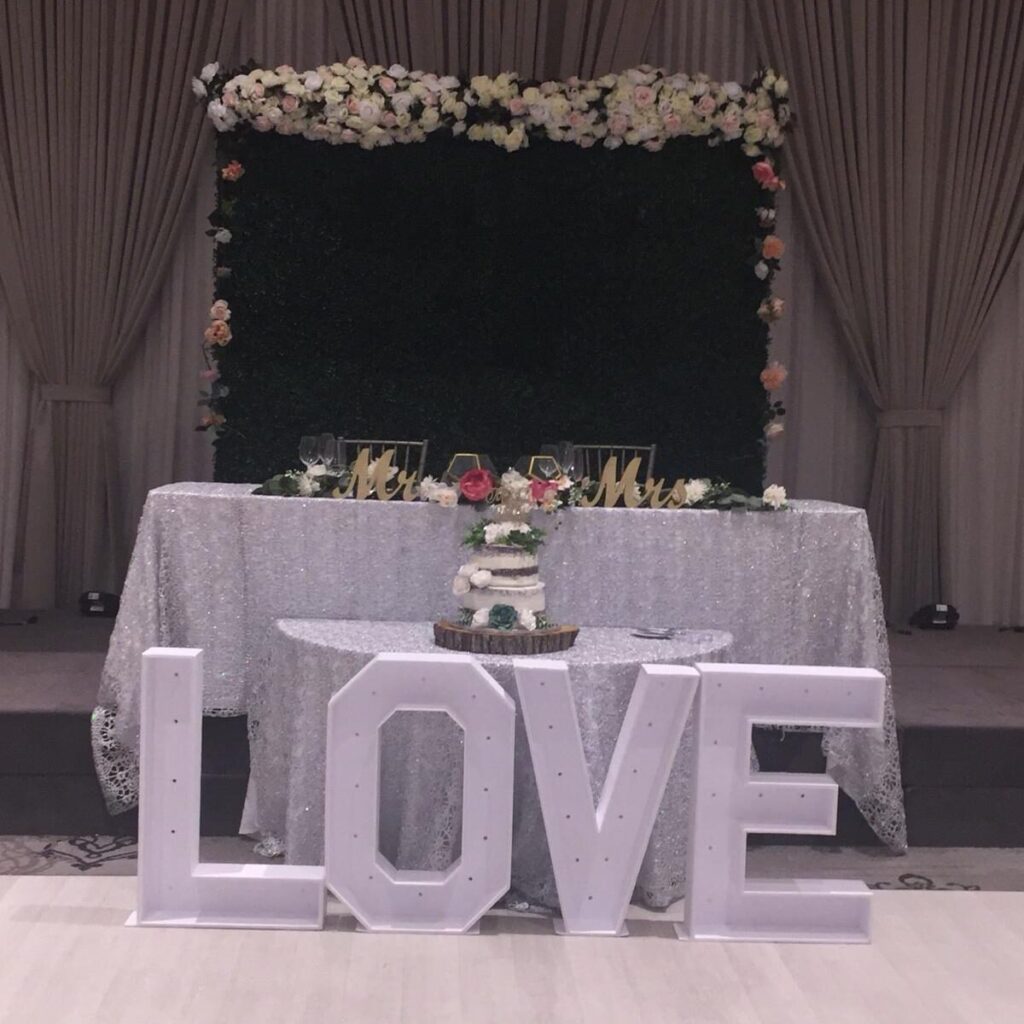 Balloon Decor in Fort Lauderdale
Balloons can often be dismissed as wedding reception rentals in Fort Lauderdale. They typically don't give of a certain level of elegance that one would expect from a piece of wedding decor. Our balloon artists have made it their passion to create graceful displays that will seamlessly fit into any wedding decor. All of our balloon arrangements can be freestanding or attached to various surfaces in order to create unique displays. Each rental comes with the choice of up to 4 colors, this way you will be able to replicate the colors of your wedding. We highly recommend you consider renting one of our balloon arrangements for your wedding reception.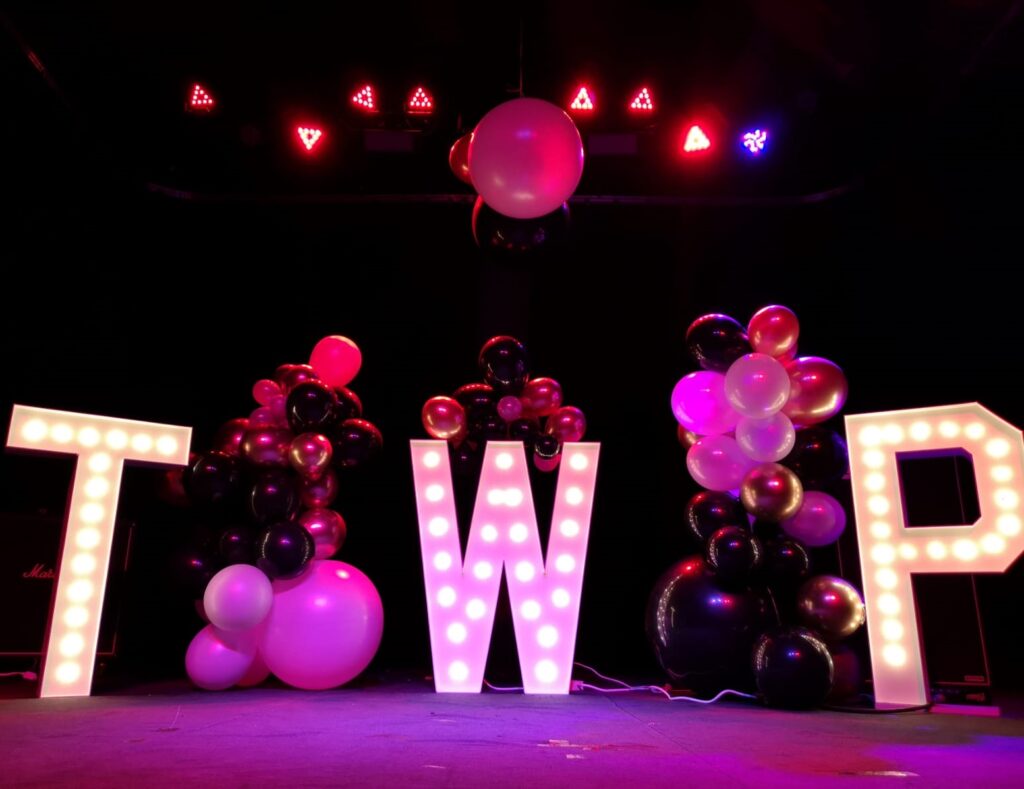 Renting with Marquee Lights Rentals in Fort Lauderdale
If you are interested in adding anyone of these pieces of decor to your wedding reception, contact us. You can reach us via the phone at + 1 (855) 954-5152 or via email at marqueelightsrental@gmail.com. We have a very experienced team that will help you with all of your decor needs.
If you are looking for any additional event rentals, check out Events 365 Rentals.