Getting ready to propose to that special someone?
You found someone that makes you smile just thinking of them; makes your heart skip a beat; makes you feel like the luckiest person in the world. You know they are "the one" you want to spend the rest of your life with, and probably have the perfect ring hiding away but how are you going to propose? You should propose with marquee lettering. Why? Marquee lettering is the ultimate grand gesture. Your special someone will be awestruck when they see what you planned. A moment you both will remember til death do you part. 
What are marquee letters?
Marquee letters are large white block letters that can spell anything you choose. Each letter stands four feet tall and each piece handcrafted in Canada. The marquee letters with lights shine bright and combined with dim room lights create the perfect ambience. There are preset words to choose from such as "LOVE" "MARRY ME" and "♡LOVE." There are also customizable letters so you can spell your soon to be spouses name. Another popular option is both of your initials.
Where do you propose?
Have you thought about where to pop the question? Rest assured adding marquee letters won't limit your options. You can propose with marquee lettering anywhere you choose whether it be a park, your home or the place that you met. Just make sure to check if you need a permit if it is in a public place. We will deliver and set up/tear down. All you need to remember is the ring.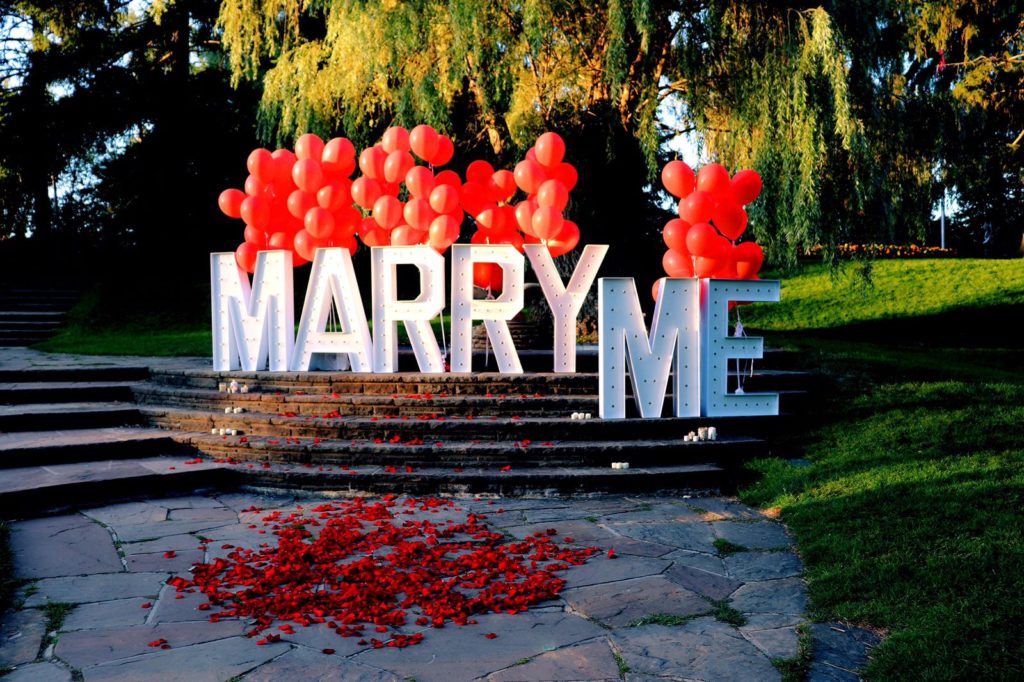 What else do you need?
You've got the ring, the location, the sign now what else do you need? You might want to add some balloons and flowers/flower petals to the decor. Also hiring a photographer will give you dazzling memorable photos. Having photos of this moment will be a great way to share with your friends and family that you're engaged. Lastly you just have to plan what to say. That ones easy. Just tell them why you love them; why you want to spend the rest of your life waking up next to them, and finish it with "marry me."
How do you order marquee letters?
Ready to start planning your perfect proposal with marquee lettering? We have locations in Toronto, Markham, Richmond hill, St. Catharines, Kitchener, Mississauga, Newmarket, Ajax, Ancaster, Vaughan, Burlington, Oakville, Scarborough, Brampton, Hamilton, Guelph, Pickering, Whitby, Barrie and Oshawa. We recommend making reservations as soon as you have the date. Feel free to call and book now for your desired date. We've even made it easier, click on the links below to take you right to the ordering page. If you have any questions give us a call or fill out the form below and we will respond the same day!
Call: (289) 797-1631
Email: partymarqueecanada@gmail.com
Call/Text: (647) 363-7995
Email: events365canada@gmail.com